Welcome to the Neurorobotics Laboratory –Karen Moxon, P.I.
The primary focus of research in our lab is to understand how the brain encodes sensory information and integrates this to produce intelligent motor output. We want to be able to use this knowledge to investigate changes in network activity under conditions of neural injury or dysfunction.
Areas of research focus on Neural encoding and Brain Machine Interfaces with applications in Spinal Cord Injury and Epilepsy.
Recent Awards

July 1, 2022 National Science Foundation awards Karen Moxon (PI) and co-Is (Erkin Seker, Xin Lui, Wil Joiner and Gene Gurkoff) the prestigious National Research Training Award $3.0M. The training grant, NeuralStorm, taking neuroengineering by storm, will be used to educate the next generation of neuroengineers by training in convergent science that crosses the disciplines of engineering, neuroscience, psychology and computer science. Full article found here

July 15th, 2022: UC Davis Department of Biomedical Engineering received a $3 million, five-year grant from the National Science Foundation to create a graduate-level training program in neuroengineering. Dr. Moxon will act as PI for this grant alongside co-Principal Investigators Professor Gene Kurkoff, Professor Wilsaan Joiner, Professor Xin Liu, and Professor Erkin Seker.
Full article found here
June 1st, 2021: Greg Disse was awarded "Best Poster Presentation" at the Symposium in Neuroengineering & Medicine for his poster "Rat trunk motor cortex can be used as a control signal for spinal neuromodulation to maintain center of pressure after spinal cord injury"
August 1st, 2021: National Institute for Mental Health awards co-investigators Karen Moxon (Ignacio Saez, PI) $3.6M to fund research into invasive decoding and stimulation of altered reward computations in depression.
September 30, 2020: DARPA awards a consortium, led by Karen Moxon, $36M to support a five-year project that aims to develop interventions for spinal cord injuries.
June 1, 2020: Gregory Disse, MD/PhD student, is awarded the NIH sponsored TL1 Predoctoral Clinical Research Training Program Award by the UC Davis Clinical and Translational Science Center.
July 18th, 2018: Ashley Schnider defends her Master's thesis entitled 'A Perceptual Role for the Perirhinal Cortex: Fact or Fiction?' at CSU Sacramento.
January 28th, 2018: Gary Blumenthal, doctoral candidate, has been awarded a research scholarship to support research at Ruhr-Universität Bochum, Germany within the framework of the "Ph.D.-Exchange Programme" of RUB Research School.
December 14th, 2017: Walter Hinds defends his PhD thesis entitled 'Machine Learning Enchanced Translational Research Methods Reveal Novel Biomarker for Human Epilepsy'
June 27th, 2017: Nathanial Bridges defends his PhD thesis entitled 'Neuronal and population level strategies used by the brain to improve performance in a BMI Task'
June14th, 2017: Chen Lui defends her PhD thesis entitled 'Impact of adaptation on thalamic neurons' computational role of conveying contextual information about paired-pulse tactile stimulus' She has taken an Engineering Scientists position at Accenture China.
July 1st 2016: The Moxon lab is awarded a $3.8M grant from the National Institute of Health (R01 NS09697) entitled 'Enchancing supraspinal plasticity to improve functional recovery after SCI' The goal of this project is to understand the relationship between supraspinal plasticity and recovery of function after severe spinal cord injury. This project will study the anatomical, physiological and molecular changes in rats after SCI and therapy that are necessary to optimize recovery.
February 2015: Professor Moxon is elected a Fellow of the American Institute for Medical and Biological Engineers
Lab News
3/29/2023 – Dr. Moxon is a guest speaker at Penn State University Research Seminar "Cortical Computations for Postural Control: Developing a BMI for Paraplegia https://www.cne.psu.edu/resources/research-seminars.aspx
3/21/23 – Greg Disse gave an exit seminar presenting his thesis "Cortical computations during maintenance of postural stability: towards a postural neuroprosthetic"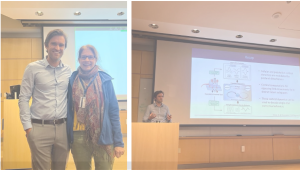 3/18/23 [Video] – Dr. Moxon talks about brain health and machine
learning at UC Davis Center for Neuroscience NeuroFest Talk "The
Relationship Between Artificial Intelligence, Machine Learning and
Brain Health" https://www.youtube.com/watch?v=XR-dk9aeiEI
11/22 – Logan Peters and Greg Disse presented their posters at the
Society for Neuroscience annual meeting in San Diego. To celebrate
the return of in-person SFN, past and present members of the Moxon
Lab gathered for dinner.


8/1/2022 – Logan Peters and Ari Moghbel were both awarded one-
year NSF Research Traineeships through the Center for Neuroengineering and Medicine's NeuralStrom training program: https://neuroengineering.ucdavis.edu/nsf-training-program-neuralstorm
6/2022 Moxon Lab graduate students participated in the UC Davis
Center for Neuroengineering and Medicine's Inaugural Research
Symposium in June 2022. Karen Moxon and graduate student Greg
Disse are both featured in the article. https://engineering.ucdavis.edu/news/inaugural-research-symposium-neuroengineering
5/11/2022 [Video] – Dr. Moxon discusses the future of
neuroengineering at the UC Davis Research Expo – Enhancing Brain
Health and Neural Performance "UC Davis at the Forefront of
Neuroengineering" https://www.youtube.com/watch?v=icUwvbuvhtY
3/15/2019 [Guest Speaker] – Dr. Moxon joins the crew at the Dana
Foundation's Cerebrum Podcast to talk about her recent publication
"Mind Over Matter: Cognitive Neuroengineering" https://www.youtube.com/watch?v=O2GbCWjt89E
5/14/2022 [Guest Speaker] – Dr. Moxon sits down with the See It to
Be It Podcast: "Motivating Women to Pursue STEM: Featuring Dr. Karen
Moxon" https://seeittobeit.fireside.fm/karen-moxon
6/11/22 – Congratulations to our Moxon Lab Class of 2022 graduates: Daniel Chorn, Shannon Lamb, Xiangyu Liao, Joseph Morrison, and Victoria Pierce!
6/01/22- Logan Peters, while continuing his PhD studies, presented his talk "Decodable Multi-Areal Oscillations Underlie Human Decisions" at the Symposium in Neuroengineering & Medicine
5/02/22 – Shannon Lamb has been awarded a fellowship from the National Science Foundation to research machine learning algorithms and their deficiencies in properly diagnosing common psychiatric disorders — depression, bipolar, and schizophrenia
11/01/21 – Joseph Morrison wins Pamela J. Fair Undergrad Scholarship for Leadership in Engineering
8/26/21 – Former Junior Specialist, Zexi Zang, starts Master of Science program in Biomedical Engineering at Brown University
6/04/21 – Bharadwaj Nandakumar will defend his thesis "Role of trunk sensorimotor cortex in supporting rehabilitation assisted recovery of function after spinal contusion injury" July 6th 9am PST
5/28/21 – Shannon Lamb receives the TBP Engineering Honor Society Scholarship Award.
1/18/21 – Former Undergraduate Research Assistant, Vanessa Gutierrez, accepts a Research Associate position at Dr. Bouchard's Neural Systems and Data Science Lab at UC Berkeley.
9/1/20 – New preprint available!
Trunk sensory and motor cortex is preferentially integrated with hindlimb sensory information that supports trunk stabilization
Bharadwaj Nandakumar, Gary H. Blumenthal, Francois Philippe Pauzin, Karen A. Moxon
doi: https://doi.org/10.1101/2020.08.31.272583
8/11/20 – New preprint available!
At-level allodynia after mid-thoracic contusion in the rat
G. H. Blumenthal, B. Nandakumar, A. K. Schnider, M. R. Detloff, J. Ricard, J. R. Bethea, K. A. Moxon
doi: https://doi.org/10.1101/2020.08.10.240499
5/14/20 – Karen Moxon discusses motivating women to pursue STEM in Episode 86 of the See it to Be It podcast. Listen now at: https://share.fireside.fm/episode/PiCh6q68+ttbuXP8-